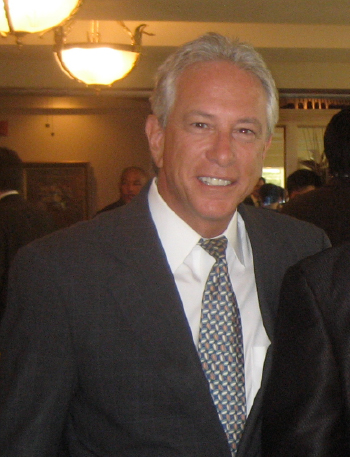 There are 3 things in my life that I consider my priorities:
1. Family – raising my daughter and son in NYC, putting them both through college and seeing them turn into young adults has been my greatest achievement. I always tried to give the best to my children – the best education and the best experiences in life. I am proud of my son who graduated from Northeastern University and is serving our country as an officer in the United States Army and my daughter who graduated fromt my Alma Matter, Syracuse University and works in New York City in advertising and copywriting.
2. Work – My father was a poor, first generation American whose family immigrated from Russia. He put himself through City College in New York and became a successful accountant. He was the hardest worker I knew and I was lucky to understand his work ethic at an early age. I have followed that ethic – I work hard for my clients, I am loyal and I am accessible. But most of all I love what I do for a living. I find it very fulfilling to see a transaction proceed from start to finish and the parties achieve their goals.
3. Music – from an early age, I have always loved music – all kinds and styles. My parents insisted on learning a musical instrument when I was 10 years old – I chose the guitar. My initial studies were based in classical and Flamenco where I learned to read music. My brother and I performed at recitals frequently. When we were children, we discovered the Beatles and my focus changed to learning rock and roll and jazz. From that point on my brother and I played in bands during our teens and throughout college. Not only can I enjoy listening to music in a city where on any given night, you can see a fine show, but I also can read and play music. Communicating with other musicians without talking is a remarkable experience. I have over the last 10 years been performing with an all original rock band in NYC.
I was born in New York on March 13, 1959 (Friday the 13th has always been a lucky day for me).  My parents were loving and caring – my mother was an amazing cook and my father a great teacher. They also wanted the best for my brother and I and sent us to Birch Wathen High School in Manhattan (now Birch Wathen Lenox).  I attended Syracuse University where I graduated from in 1980 with a B. A. in Philosophy and a B. S. in communications from S. I. Newhouse School of Public Communications. I supported myself during college by playing guitar in a successful rock cover band for 4 years where we performed almost every weekend through upstate New York. The band became so successful that we purchased our own audio gear and lighting systems and had roadies. Our band culminated when we were the opening act for several well-known national acts.
For the first 15 years of my life, I spent my summers at my family's house in Fire Island where I learned to swim, fish, sail and waterski. During the summers of my 16 through 19 years I spent June taking bike trips through the United States, Canada, Germany, France, Switzerland and Holland as well as Hawaii. During the summers of my later teens, I worked as administrative assistant at a small family law firm in Manhattan where I learned the fundamentals of a law practice.
Before I attended law school, I pursued my 2 favorite passions: traveling and music.
Upon graduating college, I was hired by an artist management company to assemble a national tour for the musical performer Ronnie Spector. I traveled across the United States in 1981 as road managing for the tour. When I returned, I worked close with Grace Jones at a time when disco was a huge phenomenon. In 1982, I started work at the American Society of Composers Authors and Publishers (ASCAP). I was hired to work in a newly created position resolving copyright disputes between artists (my ability to read music was of key importance for this position). I worked at ASCAP for almost 2 years and as result of handling arbitration, I became interested in the law.
I secured a job as a paralegal at Proskauer Rose Geotz & Mendelsohn and worked in the real estate department. I was trained and attended closings all around the country until I went to law school in 1985.
During this time, I continued to play guitar in several successful local bands and traveled around the world including Italy, Greece, Israel, Spain, Portugal, Latin America and Mexico.
I attended St. John's University from Feb 1985 to May 1987 and completed my J.D. in 2 and one-half years.  After completing law school, I joined 9 other Americans on a 3 month trek in Northern India through the Himalayan range reaching heights over 21,000 feet.
Upon my return, I joined Whitman & Ransom's real estate department as an law associate.  This was the foundation of my legal education. At the time, I worked very closely with one of the largest condominium developers in NYC.  In addition, I represented landlords, co-op corporations and condominium associations.
After leaving Whitman & Ransom I worked at two firms representing lending institutions on both commercial and residential transactions. My clientele continued to grow and in 1997 I joined Kane Kessler as a partner where I ran the real estate department for 12 years before starting up my own law practice in 2009.
In 2014, I closed my practice and started Gonchar Real Estate.
One of the most fulfilling experiences with my kids was the trips I took them on after they graduated high school and turned 18. For my son, we took a 10 day trip down the Colorado River in the Grand Canyon sleeping and camping on the river. For my daughter, we traveled to Cabo San Lucas and explored the tip of the Baja on ATV's, Dune Buggy's and horseback riding as well as snorkled some remote coves where we fed 1,000's of fish.
My parents always believed in giving back to those in need. I have provided pro-bono legal work for numerous organizations and to those who have been taken advantage of. When the 911 tragedy occurred, I offered my services to families in need of real estate guidance. Outside of my work, I have volunteered extensively in a variety of services: My son and I have raised thousands of dollars by participating in the MS Bike Tour. My daughter and I have worked at New York Cares when Sandy hit the area. I participated in my son's active role in working in the soup kitchen at the Collegiate Church in Manhattan for almost 10 years. I have volunteered at City Harvest packaging food for the hungry. And I have volunteered to have my band play at musical events supporting Wounded Warriors.
My hobbies are vast – they include snow skiing, water skiing, tennis, bicycling, hiking, running, photography, fishing, guitar playing and collecting and collecting music memorabilia.