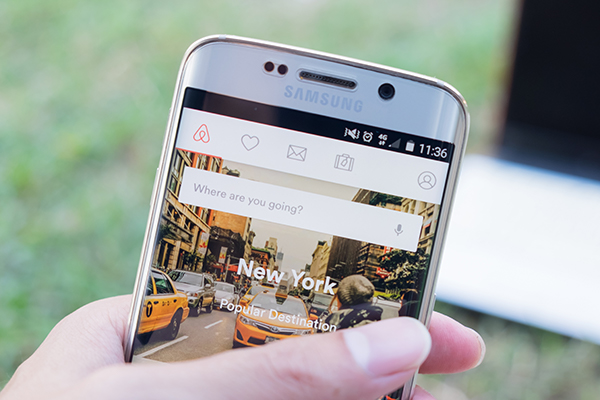 As most of know, Airbnb is a peer-to-peer online marketplace and network enabling people to list and rent short-term lodging in residential properties, with the cost of such accommodation set by the property owner.
Airbnb was founded in August of 2008 and is based in San Francisco, California, It has become a trusted community marketplace for people to list, discover, and book on-line o from a mobile phone, unique accommodations around the world at any price point and for any type of property (ranging from a small apartment to a large mansion). The company receives percentage service fees from both guests and hosts in conjunction with every booking. In 2006, Airbnb was said to have over 2,000,000 listings in 34,000 cities and 191 countries. While there are other recognized companies like Homeaway, One Fine Stay, For Rent by Owner, Airbnb has been the leading company for people to monetize their extra space and showcase it to an audience of millions.
Property owners sign up on the Airbnb web page as a host. They describe their property for rent filling out a detailed description with photos and daily rent. Renters can search the site setting parameters for their stay (ex. Location, number of bedrooms and bathrooms number and size of beds, available dates, what amenities are included, parking, whether pets or smoking are prohibited and if the premises are handicap accessible). Airbnb handles all of the payments – guests get charged before they arise. Airbnb requires verified information from both hosts and guests, including phone numbers. After a trip, everyone gets a chance to write a review. Reviews keep guests accountable for treating hosts and their homes with respect. In addition, Airbnb offers (i) Host Protection Insurance which is designed to protect the owner from liability in case the guests get hurt or cause property damage. It is automatically included as part of the Airbnb account and (ii) Host Guarantee which protects the owners' home and personal property from accidental damage. Every host with a listing on Airbnb is eligible for coverage at no additional cost.
The short term rental platform allows hosts to make ends meet (especially if saddled with additional expenses and meeting the costs of living in a very expensive city). Many tourists use the service frequently because of the high costs of hotel rooms in the city. But this system generally will not work for co-op condo or renters. As with any rental in a co-op or condo, the building rules prohibit short term leases. In addition, all leases must generally be approved by the co-op or condominium board. Residential leases typically prohibit tenants from subleasing their units without the landlord's permission. Tenants who violate their leases by engaging in unauthorized rentals—short-term or otherwise—could face eviction. Tenants should check their leases and talk to their landlords before engaging in any short-term rentals. The ramifications if found out by the co-op, condo or landlord may result in harsh consequences.
Law makers in New York have been arguing that Airbnb has exacerbated a shortage of affordable housing in New York City, as the service's operators cash in on homes that would otherwise be on the market. The service also poses safety risks and quality-of-life problems (noise, property damage, etc.). Housing activists have repeatedly said that this practice drives up the already high rents across New York City and reduces the supply of affordable housing.
New York authorities have battled for years over the legality of offering short-term lodging through this type of service. The New York State Multiple Dwelling Law (MDL) establishes the standards for all buildings containing three or more dwelling units. The MDL flatly prohibits unhosted rentals (where the entire dwelling unit is left vacant for the short-term guests to occupy) of less than 30 days in "Class A" multiple dwellings (buildings occupied by three or more families living independently). In 2010, the MDL was amended to provide that Class A multiple dwellings can only be used for "permanent resident purposes"—this means that the units in such dwellings must be occupied for at least 30 or more consecutive days by the same person or family. Thus, one cannot rent out an apartment in a "Class A" multiple dwelling for less than 30 days, unless a "permanent resident" is present during the rental period. Such a permanent resident must be a "natural person" (a human being); this eliminates corporate hosts. While it has been illegal in New York to rent out a whole apartment for fewer than 30 days in multiunit New York City building if the owner or tenant isn't home during the guest's stay, some tenants and landlords have ignored those rules and have been using Airbnb to rent out their apartments for much shorter periods.
The MDL does not prohibit:
hosted short-term rentals (rentals where the human host is present in the unit) provided that the guest has access to all parts of the apartment or other dwelling unit;
short-term rentals, whether hosted or not, in "private dwellings" (one-and two-family homes); or
rentals of longer than 30 days.
Renting out a spare room in an apartment on Airbnb remains legal, as does renting out one of two units in a home.
While many kinds of short-term apartment rentals have been outlawed since New York passed a separate bill in 2010, the government's attempts to enforce the law have been largely unsuccessful. On October 21, 2016, New York established a new law which penalizes property owners who rent out their properties for short periods of time. The new law makes it illegal to advertise a short-term rental that is prohibited by the MDL (in other words, it will be illegal to list properties on services like Airbnb and other online short-term rental platforms). Fines for violations range from $1,000 for the first violation, to $5,000 for the second, to $7,500 for three or more violations. It appears that such fines can be levied both on individual hosts and on the short term rental company.
Notwithstanding the new laws, hosts who engage in legal rentals in New York City may be required to obtain a special license or permit to operate a business in the City. In addition, New York State and New York City each impose various taxes on hotels. These include a New York City hotel room occupancy tax, New York State sales tax, New York City sales tax, and the New York State hotel unit fee daily tax. Short-term rentals through Airbnb or other rental platforms may be subject to some or all of these taxes. Airbnb does not collect or remit such taxes for hosts in New York City, thus they must do so themselves.
Airbnb, which has tripled in value in just two years to $30 billion, is fighting hard against any regulation that would affect the number of hosts on its platform. The company cannot expand without a steadily increasing number of hosts, and its rental revenue growth could slow as more cities around the world move to push potential providers off the platform. The New York law is particularly worrisome for Airbnb. New York City is the company's largest market in the United States. The city's hosts generated about $1 billion in revenue last year, and the company took a cut of that amount in fees. Airbnb contends that the law violates the company's constitutional rights to free speech and due process, as well as the protection it is afforded under the Communications Decency Act, a federal law that says websites cannot be held accountable for content published by their users. Airbnb agreed that it would crack down on people in New York City who rent out multiple homes, bowing to pressure from politicians and tenants' rights groups who said the company had made it harder to find affordable housing in the city.
Airbnb challenged the new law and was in talks with New York officials about potentially settling the lawsuit Airbnb filed against the state and city governments. In December 2016, Airbnb dropped the lawsuit and agreed that as long as New York City enforces the new law only against hosts and does not fine Airbnb. Airbnb has announced that it will no longer permit hosts to have more than one listing at any single address in New York City (but hosts can have listings at different addresses).
New York appears to be taking aggressive steps that will probably set a standard for the rest of the country and other countries in the world that are struggling with the impact of Airbnb on affordable housing.
*DISCLAIMER – Nothing herein is offered as legal advice. All information in this article is for informational purposes only. Please consult with an attorney before taking any legal actions.