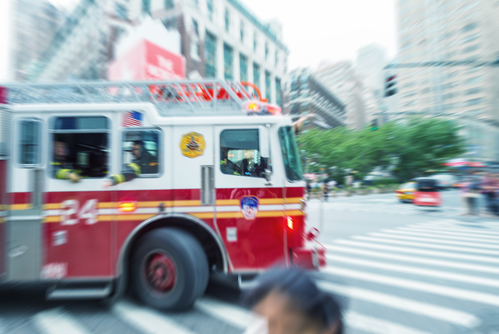 © Eric P. Gonchar. All rights reserved. No portion of this article may be reproduced without the expressed written permission of Eric P. Gonchar.
In June of 2016, the New York City Fire Department (FDNY) adopted new rules requiring apartment buildings to post identification signs along with directional markings and exit signs in hallways. All apartment buildings and hotels in New York City must comply with this new requirement by March 30, 2018. However, if the building contains any duplex or triplex units, the property was required to install these new markings by March 30, 2017.
The new law was passed so that building owners mark apartment entrance doors with very specific emergency markings that serve to assist firefighters, first responders, and building occupants to identify apartment numbers in smoke conditions that obscure the regular (eye-level) apartment door numbers signs. The fire emergency markings also assist in identifying apartments that are joined horizontally and have been combined into a single dwelling unit–this helps firefighters ascertain whether they are entering the lower level of an apartment, rather than the upper level of an apartment, where temperatures may be unsafe.
Specific required symbols and apartment numbers must be of a specific size and material but the signs can be designed in different colors to match the apartment door color. All of these signs must be either photo-luminescent or retro-reflective. The entrance door markings and signs have the further design requirements: All letters and numbers shall be san serif, not less than one-half inch in height, and shall use Arabic numerals and/or English alphabet capital letters. All signs are low-mounted and must be placed no higher than 12" inches from the floor at each entrance that has the apartment number so that when firefighters are crawling on the floor, they can find the apartment.
The new rules also would require new signage for exits and hallways. In a building with occupancy of more than eight (8) dwelling units on a floor, a marking must be placed or a sign posted in a conspicuous location in the elevator lobby or other public entry on each floor, and in the public corridor opposite each stairwell entrance by March 30, 2017. The marking or sign shall identify, by directional arrows and dwelling unit numbers and/or letters, the direction to each dwelling unit. Such markings or signs are not required in the public entry or opposite any stairwell entrance in any building or on any floor where the entrances to dwelling units are located in a single direction from such entry or stairwell entrance. A "single direction" means that all dwelling units are located along a single corridor. If dwelling units are located on more than one corridor, directional markings or signs shall be provided at each location where the corridor from the stairwell intersects with another corridor. Buildings with sprinkler systems are exempt from this requirement
While the new laws will require a substantial expense to install, the law will add to residents' safety in the event of a fire.
*DISCLAIMER. Nothing herein is offered as legal advice. All information in this article is for informational purposes only. Please consult with an attorney before taking any legal actions.